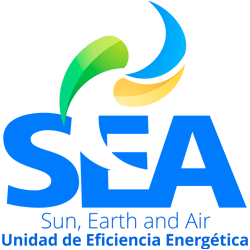 We are a unit, focused on the development of projects and businesses associated with Efficient Energy Management (EEM) through
Energy Efficiency and implementation of Non Conventional Renewable Energy Sources. The Energy Efficiency Unit (EEU) is based on an ESCO (Energy Services Company) model, whose purpose is the business management around the efficient use of energy resources from the analysis, design structuring and implementation of projects with clean energy.

Solar street lighting in caribbean islands
The objective is to solve the public lighting deficit in the southern area of San Andrés Island, for which an energetically sustainable solution was developed for public lighting because there are no electrical networks and it is a traffic area for both residents and tourists who have security problems…

Advice and bioclimatic implementation in buildings
The main purpose of the new EEDAS Bio Climatic Headquarters is to meet the need to strengthen the operational structure and develop efficient cost management, contributing to the management of the energy transformation process of the Islands, as the new headquarters is an operational management laboratory comprehensive energy and rational use of energy…

Implementation of non-conventional renewable energy sources in fishing terminals
The fishing terminal for artisanal fishermen in the northern area of ​​San Andrés, has the implementation of a solar / mini-wind self-generation system with a capacity of 50 kWp and the development of Energy Efficiency measures that reduce the projected consumption of the building by 50%…

Photovoltaic installations in hospitals
During 2019, an important achievement was accomplish by completing, after five years of work, the approval of the project "Research for the strengthening of capacities in the provision of energy in the islands". The cost worth $ 6,996 million (resources CTeI SGR OCAD), was obtained in the Ministry of Science, highlighting that the evaluation committee recommended EEDAS S.A. for its experience and knowledge as executor…

Floating photovoltaic installations
EEDAS S.A. E.S.P. in 2016 presented to the Mayor of the Municipality of Providence and Santa Catalina a conceptual proposal for the development of a floating solar auto-generation project in the Agua Dulce dam (Fresh Water Dam). This project has a primary energy destination for the treatment plant of pumping of the aqueduct or in its defect of the Public Lighting of the sector…
Botanical garden self-generation project
As a complement to the new EEDAS S.A. Headquarters projects, this project was structure for the application of a hybrid system (photovoltaic – wind) for self-generation of energy in the new educational classrooms and the administrative building of the Caribbean headquarters of the National University (San Luis Headquarters)..

Electric transport system
In the Archipelago, 120,000 barrels of oil are consume annually in the transportation component, a situation that exceeds consumption for electricity production by 25%. This situation within the biosphere reserve calls for the establishment of specific plans for the revision and transformation of the high dependence on fossil fuel…

Socialization of energy efficiency and renewable energie
In 2017, in alliance with the Government of the Department, EEDAS developed the socialization and sensitization of the community of the archipelago of San Andrés, Providencia and Santa Catalina regarding the energy transformation aiming towards the efficient use of renewable energies and unconventional sources of energy in the Seaflower Biosphere Reserve
Substitution and replacement of efficient appliances



The National Development Plan 2014-2018 determined in its axis "A- A Prosperous, Equitable Caribbean without Extreme Poverty", as a priority for the Archipelago, the need to develop projects, policies and initiatives aimed at reducing the consumption of DIESEL fuel as a primary source in its Objective 4:" Advancing towards the provision of energy cleaner and less expensive ".The National Development Plan 2014-2018 determined in its axis "A- A Prosperous, Equitable Caribbean without Extreme Poverty", as a priority for the Archipelago, the need to develop projects, policies and initiatives aimed at reducing the consumption of DIESEL fuel as a primary source in its Objective 4:" Advancing towards the provision of cleaner energy and less expensive "…