RESEARCH PROJECT FOR STRENGTHENING CAPACITIES FOR THE PROVISION OF THE ENERGY SERVICE OF SAN ANDRÉS
EMPRESA DE ENERGÍA DEL ARCHIPIÉLAGO DE SAN ANDRÉS, PROVIDENCIA Y SANTA CATALINA
"Clean Energy"
MEANING OF THINK GREEN
Technology with an environmental and sustainable vision.
Projects that change the way we conceive energy generation and consumption.
Caring for the environment as a central axis in the development of technological solutions in the archipelago.
RESEARCH PROJECT FOR STRENGTHENING CAPACITIES FOR THE PROVISION OF THE ENERGY SERVICE OF SAN ANDRES
General Objetive:

Increase the scientific and technological knowledge of alternatives in EE and        NCRES for the provision of energy service in the Department.

Specific objetives.

Evaluate EE and NCRES alternatives to increase knowledge in the application of technologies in NIZ.
Generate tools for decision-making based on reliable information.
Generate human talent capacities of the region in EE and NCRES.
PROBLEM STATEMENT
Generation of energy through the use of fossil fuels.
High environmental impact in power generation.
Little knowledge of EE and NCRES.
Lack of reliable information for decision making.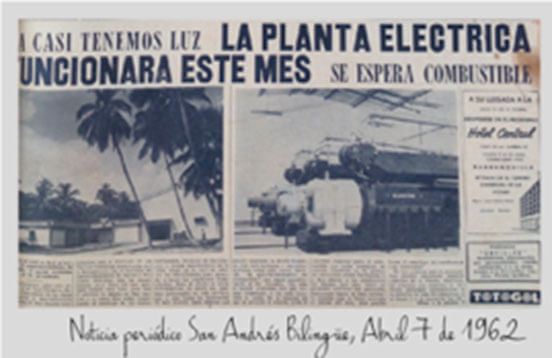 1962 – 100% DIESEL Energy
2021– 99,99% DIESEL Energy
SOLUTION
Collection of information that allows making substantive decisions about the Department's energy basket.
Energy efficiency pilots that allow establishing the behavior of EE and NCRES technologies in an environment of real use in the Department.
Increase knowledge in EE and NCRES in the Department.
RETROFIT HOSPITAL PILOT
Generating electricity using solar panels at Clarence Lynd Newball Hospital.
134 kWp peaks of photovoltaic solar energy, 320 panels installed in the hospital parking lot.
Take advantage of its exclusive electrical circuit.
Take advantage of its hotel-like behavior.
Acquisition and commissioning of three (3) cars, three (3) motorcycles, and two (2) scooters, all powered by electric power, which will be charged through solar-powered charging stations, installed in the Government, EEDAS and the National University.
SUV-type electric vehicles with a capacity of 5 passengers and off-road characteristics with more than 400 km of autonomy.
Multipurpose electric motorcycles, with a range of 110 km.
PIMMA
Insular platform for measurement, monitoring and analysis
Collection of data from the pilots.
Data processing and analysis generating information about the installed systems.
Generation of knowledge that allows making decisions about energy production in the Department.
 INCREASE OF KNOWLEDGE
Master's degrees in EE and NCRES aimed at professionals from the department.
Courses, workshops, diplomas that allow the socialization of technology and existing solutions in EE and NCRES among the population of San Andrés Providencia and Santa Catalina.
PROJECT GOAL
Collect information that allows decision-making.
Train the human resources of the department in EE and NCRES.